Finding the perfect home for your Christmas cards can be a unique challenge. As simple as it sounds, I prefer a big wicker basket so I can look through them multiple times a day. I once tried to hang them on their own individual Christmas tree, and while I loved the look, it was not convenient for me. Taking them down to look at them was just too much trouble, and I like to share my favorites with friends and family as they stop by to visit. How do you display your cards?
Over the years, I have saved pictures for my "someday" idea file- I save everything I see that I like. I started this when we built our
last home
(
this is a link to our home last Christmas and I used a vintage Santa bucket for my cards
) and
drew our own floor plans
(
this is the link to our blueprints and it took us nine months from this link until we had finished construction
) with the help of our builder. I needed to be confident that every decision I made was one that I could not only live with, but love.
Though we are not planning on building again for a while, I still use my online files to save clips and photos of things I see that I don't want to forget!
Here are some festive ideas from my holiday card file to get you inspired!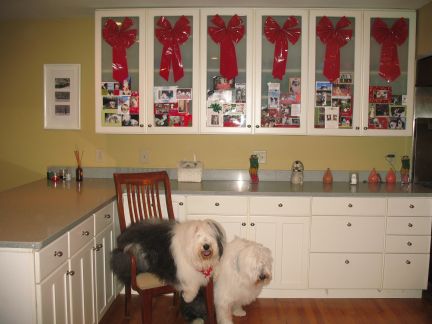 Happy Displaying!